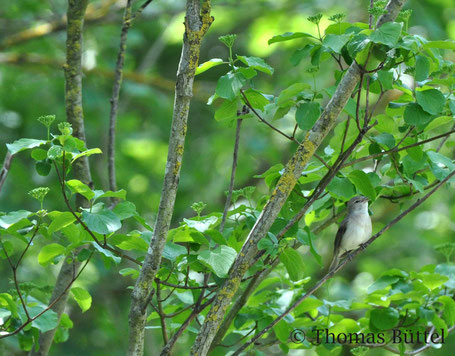 Meanwhile also interesting species like Golden Oriole, Marsh Warbler and River Warbler have arrived and since the most of them are mostly found in the Riparian Forest, I thought a visit to the Porznersee should be profitable.
Like a month ago the lake wasn´t very interesting, though a calling Little Ringed Plover attracted immediately my attention. In the bushes around the lake many Willow Warblers and also few Marsh Warblers were singing. Furthermore all four Sylvia-Warblers could be spotted!
As I was just about to enter the Riparian Forest, I heard apart from a calling Cuckoo, two Marsh Warblers and two Reed Warblers finally the first River Warbler of the year, though it was quite distant. Unfortunately it remained the only one for the day. Instead I could observe several Nightingales and Garden Warblers in the Riparian Forest.
Already heading back to the car I detected also a singing Golden Oriole, which had also flown across the path shorty before. Therefore I got all three desired species and perhaps also pictures can be taken of them at my next visit.