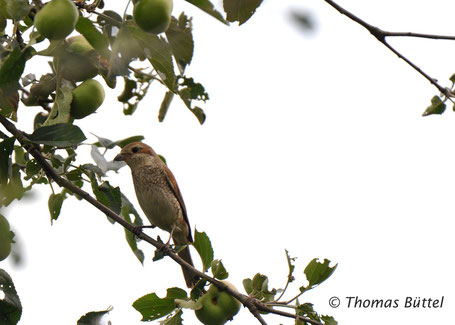 I´ve planned to write some more site descriptions and today I´ve visited one of these probable new sites. The "Kraiberg" is located north of the small town "Baunach", especially its southern slope is ornithological very interesting. The whole area is a mosaic of fields, hedges, bushes, fruit trees, small gardens and meadows. Because of this diversity you´ll find here a lot of birds.
Today I focused on the typical breeders and actually it didn´t take long till I detected the first target species: A beautiful Common Whitethroat was singing loudly from the top of a bush. And it should be just one of several Whitethroats which can be found here almost everywhere. Further common species are Red-backed Shrikes, Grey Partridges and Skylarks. Additionally I could observe there Lesser Whitethroats, Wryneck and many more. Apart from that you also get a fantastic panorama!
This was my third visit and I´m sure there will be a fourth visit as well. Unfortunately this site is seldom visited and so my informations are limited, perhaps I should go birding here more regularly.