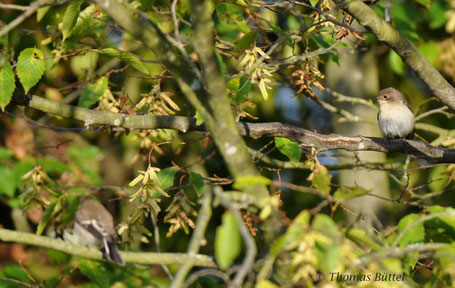 Once again I´ve visited the "Kreuzberg" for my fourth migration count staying again for four hours. 
Altogether I´ve been quite successful with a total of at least 1036 birds. The major part formed almost 400 House Martins, which seemed to migrate permanently southwards. Barn Swallows however remained quite scarce with only 15 safely identified individuals. Though it has to be mentioned, that almost 150 Swallows could not be identified on species-level because of the great distances.
Apart from that also several birds were passing through the bushes, not only the usual Blue, Great and Coal Tits, but also few Sylvia-Warblers and notable 14 Pied Flycatchers.
Unfortunately this was the last migration count for a while, hopefully I´ll have time again for the peak migration days in early October. In the meanwhile I´m going to sum up the most important facts about the "Kreuzberg" and present them on a seperate page.