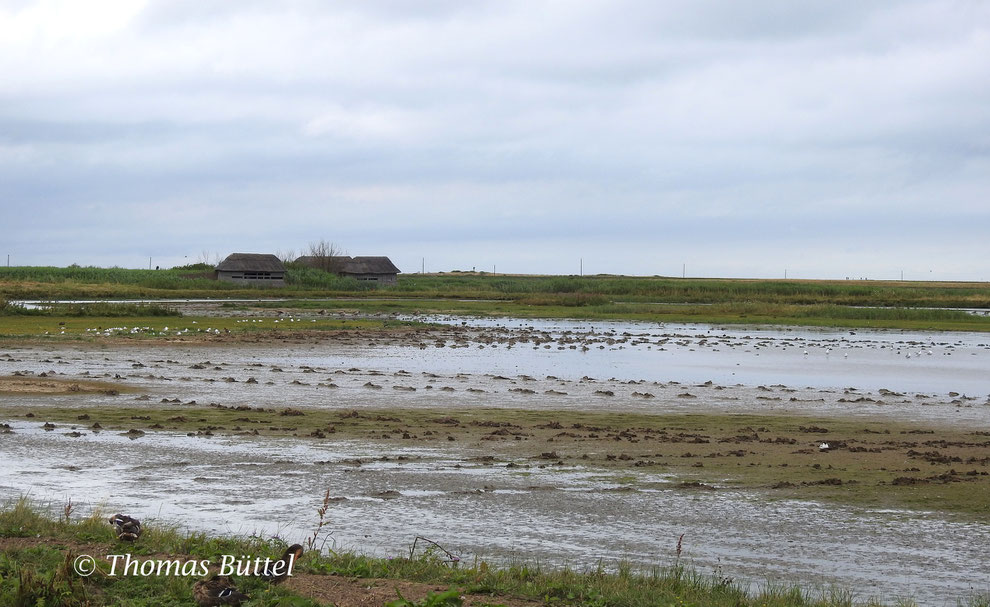 As promised some weeks earlier - here comes the first post about my trip to Norfolk. I start with my up to now favourite site in the UK - the Cley Marshes. The extensive marshland area situated next to the sea is an excellent place to observe lots of waders (more than 50 species are recorded !) all around the year - or in other words it is the heaven for all birders who come from the inland. The only problem was actually to get there from my accomodation in Norwich, as the public transport network is undoubtedly underdeveloped in Norfolk. I found it best to take at first the train to the small seaside-town Cromer and from there the practical Coasthopper bus service, which connects the North Norfolk Coast with King's Lynn. This might sound rather easy, but the journey takes two hours one way provided that you don't miss a bus (which are always late by the way) or a train.
Anyway, before you can actually start birding, you have to go at first to the visitor centre and buy the permit for using the hides and the paths on the reserve. 4,5 pounds is not cheap but really worth the price, since you have access to six wonderful hides, which are connected by a circuit walk (two miles = 3,2 km).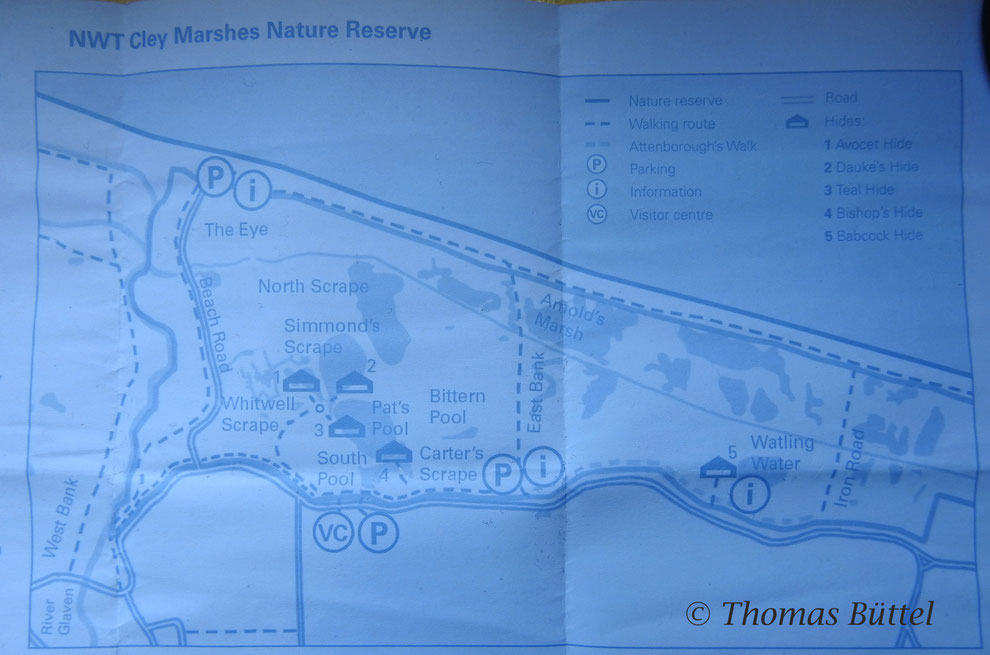 Now comes the interesting part of this post - birdwatching at Cley. I try to keep short, but it really is difficult to do so, when you are so excited about this site as I.
Waders: As mentioned before Cley Marshes are terrific for observing waders of all kind. Although the local birders said that there were yet really few waders, I counted still at least a total of 15 species at any of my visits. Here I could finally fill the gaps in my wader list including lifers like Red Knot, Curlew Sandpiper and Oystercatcher. The great thing about Cley is not only that you see a great variety of waders but also that the most are feeding almost directly in front of the hide.
Since the marshes consist mainly of tidal scrapes, the number and the distribution of waders depends on the water level. Nevertheless, I liked the so called "Bishops Hide" most, which offers in my opinion the best view on "Pat's Pool", where the most waders were resting. During my stay also a very rare White-rumped Sandpiper had popped in, but just on the very day I had visited a different site.
Gulls and Terns: Since Franconia isn't a great place for watching gulls or terns as well, this was the second group of birds I was especially interested in. Species like Herring Gull or Lesser Black-backed Gull, which can almost be considered as rarities in Franconia, were widespread and really easy to connect with. Slightly scarcer were the monstrous Greater Black-backed Gulls, although I encountered them at several other sites as well. Amazingly, the species which is most common near my home, the Yellow legged Gull, is quite rare in Norfolk and the English birders were all pleased to see a couple of these at Cley.
I've spent some very educative hours in the hides of Cley comparing the various gulls of different ages. On my last visit another birder draw my attention to an especially striking looking gull, that appeared to have some Caspian influence in the field. However there were some oddities like a rather dark mantle and conspiciously short legs. Having checked my photos I'm now rather sure that this was actually a Lesser Black-backed Gull. I think I'll feature this mystery bird in a different post.
On the already mentioned circuit walk you're also going for a small stretch on the coast line. According to this very helpful book it is a good position for seawatching in the autumn, so I paused here for half an hour and scanned the sea for passing sea birds. Fortunately, there were some experienced seawatchers close by, which helped me to find my first Arctic Skuas and gave me a brief introduction in identifying terns on long distances.
There would be a lot more to tell about Cley Marshes, but it would just take ages to do so. Besides the already mentioned waders, gulls and terns there were plenty more interesting species on the reserve like Bearded Reedling, various duck species and Spoonbills. In fact, Cley Marshes continued to amaze me on all of my four visits producing a total of 10 lifers. Therefore I can only recommend this fabulous reserve, you certainly won't regret a visit. I just wonder how the marshes would have looked like during peak migration time.