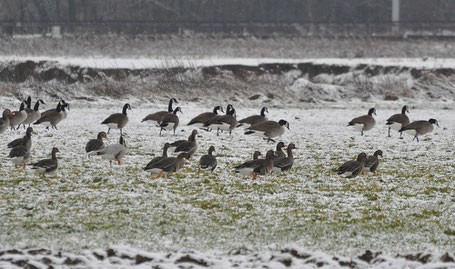 As in the last years a great flock of geese was resting on the fields between Rattelsdorf and Breitengüßbach. The trip allowed me some great sightings similar to my last visit at the 31.12.14.
I detected through my scope altogether more than 160 Canada Geese, 40 Greylags and 34 Egyptian Geese. After a little while even more geese joined the flock on the fields with at least one Bean Goose. After a closer look I identified the latter as Tundra Bean Goose.
To get a better view over the geese, I went the way a bit further and roused a group of 15 Grey Partridges. Looking again on the geese I discovered another Bean Goose, a Bar-headed Goose and 13 Greater White-fronted Geese.
Already on the way back I stopped at the Porznersee. Beside hundreds of Tufted Ducks and Porchards, also a Great Grey Shrike could be seen. Though the latter allowed me only a short glance.