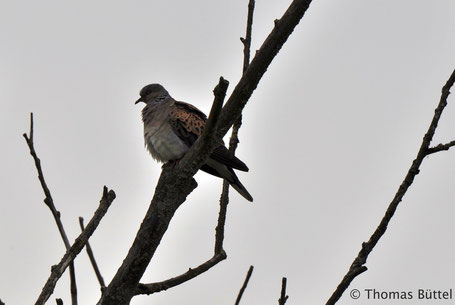 First destination was the "Hochreinsee" near Knetzgau. The sky however has already been covered by many clouds and it seemed at first, that I would not have to wait too long for the first falling waterdrops. The lake was too not very promising, the only highlights were a Yellow-legged Gull and a pair of Gadwalls.
So I turned my attention to the "Großer Wörth", which is located a few kilometers downstream. As I left the car, the songs of several Great Reed Warblers and Common Nightingales could be heard immediately. The waterfowl however was too not very interesting. Instead the multitude of singing passerines attracted my attention: Common and Lesser Whitethroats, Reed Buntings, Reed Warbler and many more. On the backside of the lake furthermore a Turtle Dove could be spotted.
When I was finally examining the sandbanks for waders, with the result of just one Ruff and a Lapwing, the rain actually started. So it did not take long till I had to put my Tamron lens in my backpack. That´s the reason why I could not document the singing Wryneck at the end.
On my way back home I stopped once again at Haßfurt to spot the last Corn Buntings of the region. Indeed I could observe these truly remarkable species there, though the intense rain prevented me doing any pictures of them.