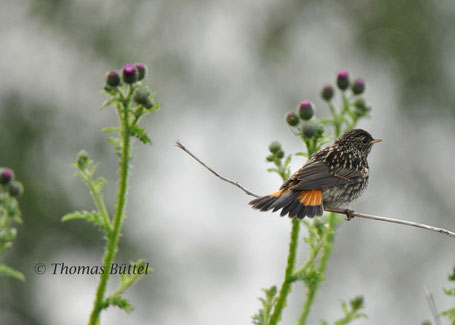 I was quite excited, when I heard that a Great Grey Shrike had been reported just a few kilometers from my home. So I kept two hours in the evening for visiting the site. Unfortunately thick rain clouds were coming along the valley of the river "Main", just as I wanted to go. Nevertheless I´ve tried.
Instead of walking around I stayed in the car and was driving on the farm tracks. However this strategy didn´t proof to be very sucessful, since I could only observe few Skylarks and Black Redstarts sitting on the fence of a solar plant.
After an hour the rain had finally passed over and so I turned my attention to the southern quarry pond of "Roßstadt", which I had planned to visit for a long time. The first stunning bird I detected was a singing Grasshopper Warbler, which remained unseen in the high grass. On the sandbanks not far from that several juvenile Grey Herons were feeding and myriads of Swallows, Sand- and House Martins were chasing insects above the water surface. After scanning the gravel banks for a few minutes also a Little Ringed Plover could be spotted. The highlights of the day however were the six Gadwall-fledglings as well as the juvenile Bluethroat, which could be observed brilliantly hopping from one branch to another.