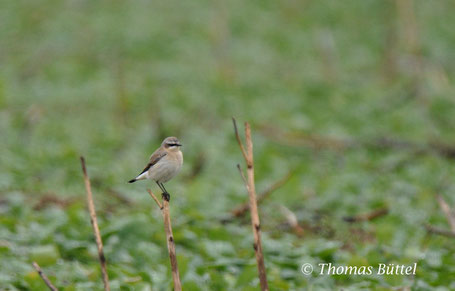 Because of the intense rain in the morning and noon the most birds were not able to pick up migration again. Therefore I checked some interesting areas for typical resting passerines in the "Steigerwald" near Burgebrach.
After a while the first target species could be detected, a Wheatear was sitting on a stubble. As it turned out it was just one of eight resting Wheatears, which were accompanied by at least five Whinchats. The other fields around were by far not so interesting and just one further Wheatear could be seen.
So I turned my attention to other birds feeding on the fields: There were dozens of Linnets, a Tree Pipit, good numbers of Stock Doves and over all lots of Kestrels. Interestingly also a male Marsh Harrier and an Osprey had been forced to rest on the farmland. Afterwards I made a little detour to the meadows at Pommersfelden, though the result were just two White Storks and a Peregrine.