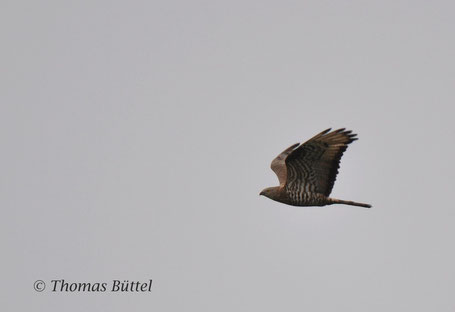 Since the last two days had almost stopped bird migration with the strong winds and showers, today was an extraordinary good migration day.
I stayed for five hours on the "Kreuzberg" and I was hardly able to note any migrating bird. Especially fulminant were the migrating raptors with 96 Honey Buzzards, 13 Marsh Harriers, 9 Ospreys and 6 Black Kites. Interestingly the first raptors were passing by around 8:00 am flying quite low however because of the fog. The maximum was about 10:00 am, when 40 Honey Buzzards were gaining height above the Basin of Bamberg
The numbers of the migrating passerines were outstanding as well. Tree Pipits were passing by with 161 individuals, which is no comparison to the 21 Pipits last Saturday. However Hawfinch (45), Dunnock (32), Blue headed Wagtail (20) and Bullfinch (13) were quite numerous too. Fortunately also Tawny Pipit and Ortolan Bunting, two rarer species could be observed.
Together with the resting birds like Whinchat, Common Redstart and Pied Flycatcher the result were sensational 62 species and more than 500 migrating individuals. A truly outstanding migration count.