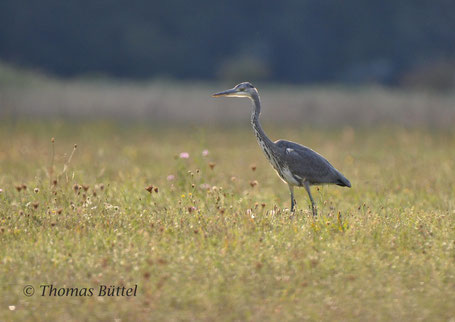 It doesn´t happen often, but one or two times in the year my favourite lake the "Große Wörth" is disappointing me. It could of course have been worse, but it was a bit shocking that there were almost no waders (1 Lapwing, 2 Common Sandpipers). Instead the usual geese were lingering on the sandbanks. The most interesting bird however was a flying over juvenile Osprey.
So I turned my attention to the surrounding fields and meadows hoping to see perhaps Wheatears, Tawny Pipits or something similar. Already on the first field 15 Lapwings were feeding only disturbed by a female Kestrel. Scanning the sky for raptors I detected a rather distant falcon, which turned out to be Red footed Falcon, not a bad record.
Checking the other fields there were not many interesting birds, at least a single resting Ortolan Bunting, good numbers of feeding Kestrels and many Jackdaws and Carrion Crows. After all a low result for the "Große Wörth", perhaps my migration count on the "Kreuzberg" will be more successful tomorrow.