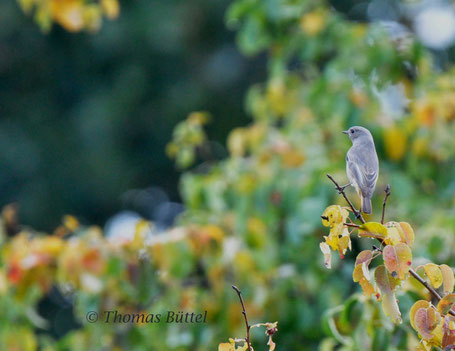 As I had checked the weather forecast yesterday it hadn´t looked good for my migration count today, but fortunately the weather was much better than expected. It turned out, that the thick and low clouds being slowly moved northwards by the wind were pushing the visible migration down almost to eye level.
And so the result was marvellous despite of me getting on the hill not until 9 am. Staying for just 55 minutes I counted 396 Chaffinches, 125 Siskins and 185 Starlings. Almost permanently a flock of passerines was flying over my head, wich meant that I was busy all the time and didn´t have time for taking many pictures. So all shots attached to this post were either taken before the migration count or afterwards.
Let´s move on to the highlights of the day: It was almost 10 o´clock when I heard the call of a Red-throated Pipit, which was passing over quite fast. Unfortunately I didn´t have my recorder ready, so I can´t show you any picture or recording of it. Second highlight-bird was an absolutely unexpected Merlin, which rested for a short while on a tree and was flying then westwards.
When I was finally on my way back, I was scanning through the masses of Tits and Chiffchaffs, which were passing through the bushes, but once again no Yellow browed Warbler. Nevertheless altogether four Black Redstarts had been joining them and allowed me to take several pictures. After all not a bad time: 974 individuals of about 40 species.