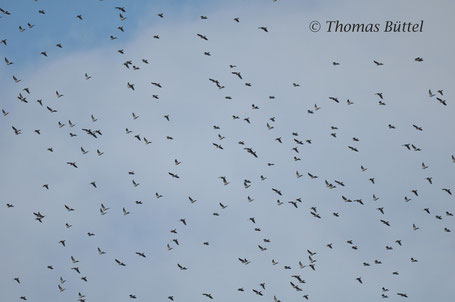 When I was going to my usual site this morning, I was quite astonished that almost no birds could be heard calling and I was even fearing that my walk would end up in a flop.

Fortunately I was absolutely wrong: Having just reached the top my attention was attracted by a very fast "cloud" moving westwards. After a closer examination it turned out to be a massive flock of birds, most likely Wood Pigeons. It didn´t take long until an even larger flock appeared consisting at least 700 birds. The next two hours proceeded exactly that way with 20 flocks of Wood Pigeons each containing an average of 700 individuals and altogether at least 14 000 birds moving westwards. Facing these masses it no longer played a role that I had forgotten my notebook, since I would never ever have been able to note anything down.

All in all it was an extraordinarily good migration day. For example approximately 2400 Chaffinches were flying over together with 80 Woodlarks, 400 Rooks and 8 Sparrowhawks. A selection of my best pictures can be seen below.