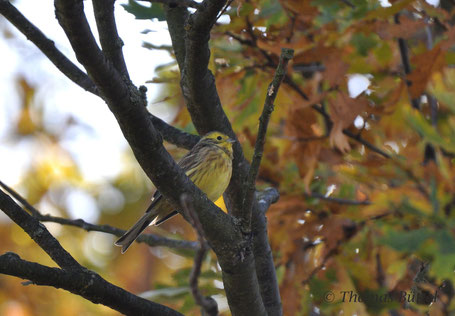 This morning the sun was shining brightly and all trees gleamed in a beautiful autumnal light. So it didn´t take too long until I was persuaded to a short walk to my usual site.

As it turned out, mostly common birds could be seen, though it is always thrilling to scan a flock of Yellowhammers hoping for a probable Pine Bunting. There were of course some very pale individuals among them, although they all showed very much yellow and were therefore clear Yellowhammers.

Nevertheless it had been a wonderful walk and the numbers both of Jays and of Eurasian Collared Doves were truly remarkable, at least 40 individuals of the latter. This is the highest number of this species I´ve ever encountered and to my knowledge this species is not migrating.

Apart from that all birds showed quite well beside of some elusive Bramblings, which constantly hopped deeper into the trees. A real delight were the Great Spotted Woodpecker, which was sitting on a rather exposed branch for quite a while, and the Short-toed Treecreeper at the end of my walk.