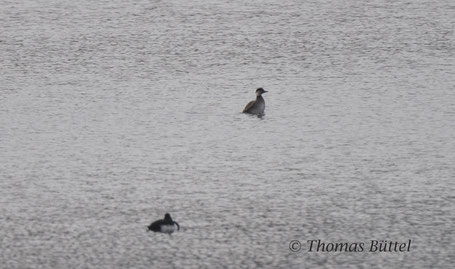 Two days ago a Common Scoter was observed on a nearby quarry pond. This species is only seldom recorded in Franconia and so I really wanted to see it. However I don´t have much time for birding at the moment, but fortunately I managed to go outside at least for an hour today.
Apart from the target species, which was showing nicely, the normal range of waterfowl could be seen: A lot of Cormorants, Tufted Ducks and Coots. As usually I also spotted some Gadwalls, which are staying on this quarry pond all around the year. This year they have even sucessfully bred.
At the opposite shore four Goosanders were dabbling, though they were too distant for a picture. A lot closer was the Smew, which was feeding at the shore, where I was standing. When I went a bit closer to get a good picture of it, it suddenly flew up and was soon out of view. So my only picture looks a bit reddish due to the grass before the lens.
Nevertheless it had been quite a successful trip, though I didn´t have much a chance for good pictures.