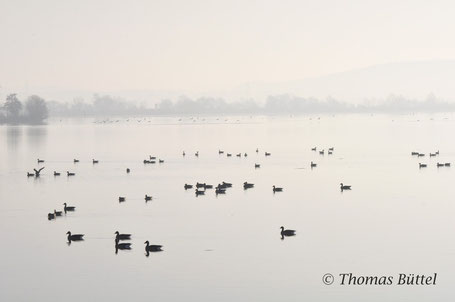 Finally I got the chance to visit the "Altmühlsee", where a Great Northern Diver has been seen for almost a whole month. Normally I´m not a keen twitcher, but since this highly desired species has been seen there for such a long time and also quite reliably, I couldn´t resist.
Last night the temperature has finally fallen below 0 °C, which means that the morning was much colder than I had expected. Nevertheless already from the parking ground the first birds could be seen: A flock of Greater White-fronted Geese was flying over and landed nearby on the meadows. After having tried to get some decent pictures, I finally turned my attention to the Diver.
It took a long while until I finally detected the elusive bird and even longer until I got some pictures worth showing. Nonetheless it was absolutely worth going the whole way to the "Altmühlsee", even if it would have been only for this species. Afterwards I paid the circuit walk on the isle a visit. The observation tower however wasn´t very profitable, since the most geese, which had apparently lingered there before, had been flushed for some reason. The bushes around were a lot more interesting: There were many Willow Tits, Eurasian Treecreepers and also a female Northern Bullfinch, which was even singing. Striking as well was an extraordinarily pale Treecreeper, which might belong to the northern subspecies familiaris, though I couldn´t see all the necessary details. 
Finally at the end of the circuit walk the last highlight of the trip came in sight: a group of fishing Goosanders. They came very close and carried almost every time a fish in their bills. Furthermore, the light was wonderful and so I could take loads of pictures. Unfortunately I can only show you few pictures and just in reduced quality.
Originally I had planned to expand my tour here, but because of some problems I had to stop here. One thing is sure, I´ll come again. The Altmühlsee is also described in the new guide, which you can find here.