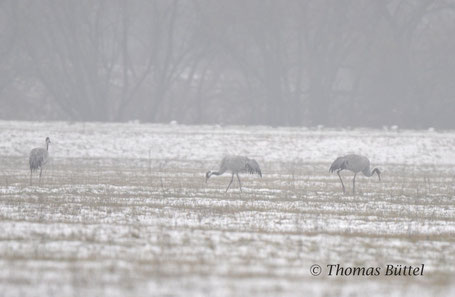 Since I had a lot more spare time than usually, I went to the "Garstadter Seen", where I hoped to see the Slavonian Grebes that had been reported a few days earlier.
I started with the observation tower near the parking ground, from where the front part of the site can be overlooked. There were hundreds of Greylag, some Tufted Ducks, Goosanders and other typical waterfowl. Fortunately the observation tower has a small diary with the latest sightings, which included also the note about three Common Cranes on the 3rd January. Since it had been snowing the last two days, there was definitely a chance that these could still be found here.
Indeed, after I reached the large meadow on the southern shore, I spotted three large birds. A glance through the scope eventually confirmed it. Whilst observing the Cranes a Chiffchaff was calling, a nice find for the winter. Shortly afterwards also a White Wagtail, a Water Pipit and three Meadow Pipits were flying over, all three were year-ticks for me.
Finally I came to the back part of the lake, where the most waterfowl was lingering. The best birds from there were a Wigeon, a Yellow-legged Gull, several Gadwalls and Pochards. After that the path is going through the "Garstadter Holz", where I encountered an Eurasian Treecreeper and four Goldcrests, which came very close to the camera. When finally having leaft the wood I spotted a small group of Woodpeckers (three Great Spotted and one Green), which also seemed not to be shy. And with a medium sized flock of Siskins feeding in an alder my quick walk around the "Garstadter Seen" ended. The result were altogether 49 species, which is extraordinary for mid-winter.