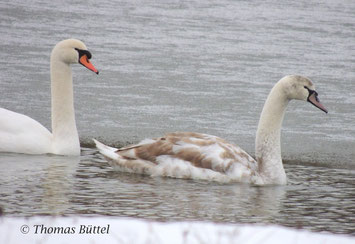 Traditionally the second weekend of January is the date for the mid-winter waterfowl census in Germany. However in the districts of Bamberg and Haßberge almost 50 quarry ponds need to be checked, an almost impossible task for only four counters. Despite that we get some support from outside I was asked to check the quarry ponds north of Bamberg. Of course I agreed.
Since I was busy yesterday, I went this afternoon. Fortunately it had been snowing all the night and the temperature had dropped below 0 °C, which caused that the waterfowl gathered on few lakes making the counting a bit easier. All in all I´m rather pleased with the result, even though there were only very few geese.
Because I´m convinced that it would be both laborious to read and to write, I won´t list my sightings here. Instead I´m going to highlight some of the more special species I encountered: First lake was the Porznersee, which is also the biggest of the area. Although there were loads of waterfowl, only a Red-breasted Merganser is worth mentioning. A few kilometers further at the Röckelein Baggersee finally the only notable flock of geese could be spotted on the fields. Among them were also six Greater White-fronted Geese.
Further highlight species were Mew Gull, Gadwall, Teal, Wigeon and Smew. Hopefully I´ll get the details from the quarry ponds west of Bamberg soon, it will be very interesting to see which species are overwintering here.