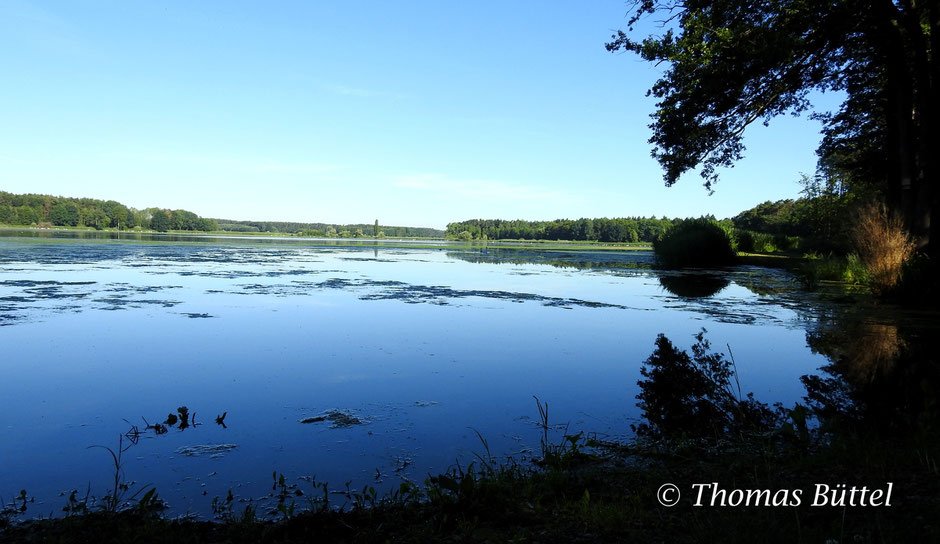 According to the weather forecast it should get very hot today (up to 36 °C), which was the reason why I used the cool morning hours for a small birding trip. Currently, I'm still researching for the new guide and so I selected one of the probable new sites that I hadn't visited so far. Once again it is a suitable spot for observing waterfowl, which offers furthermore good chances for some sought-after woodland species.
Another great advantage is that the two Bischofsweiher (and the surrounding ponds) are situated close to the city of Erlangen and Nuremberg, so they can easily be reached by public transport.
So now to my walk: First of all, I must admit that I've underestimated the site completely. Originally, I had planned to walk around both Bischofsweiher, for which I had considered three hours, though five hours are at least necessary. Nevertheless, it was a nice morning and I think that the site has a lot of potential. I parked at the connection road of Erlangen-Dechsendorf and Röttenbach, where a path leads straight to the Kleiner Bischofsweiher through an area with several smaller ponds (so called "Kastenweiher"). Although there were only common species on these, I really had some nice close-up views of Tufted Ducks, Coots and others.
As I reached the shore of the Bischofsweiher I spotted a raptor circling over the lake. It turned out to be a male Honey Buzzard, which can be recognised by its greyish head. Most likely it breeds somewhere in the forests nearby, though it is generally difficult to find out where exactly because of their secretive behaviour.
Afterwards I went along the northern shore eastwards, where you have on your left hand side a beautiful forest and on your right hand side a small reed belt where numerous Reed and Great Reed Warblers were singing. Yet I was very surprised to hear also two drumming Black Woodpeckers, though I couldn't spot them in the forest. Normally, the best time for woodpeckers is in late winter/early spring, when their drumming can be heard for several kilometers and you've furthermore better chances to see one, since then no leafs block your sight.
Perhaps I spent too much time at the northern shore, but as I reached the eastern shore already an hour had passed, which meaned that there definitely wasn't enough time for going around the nearby Großer Bischofsweiher, too. Instead of trying to get as far as I could, I relaxed a bit and took more time for observing on the southern shore, which is however not so good as the opposite side. Nevertheless, I got close-up views of several Red-crested Pochards and of a distant pair of Gadwalls.
Despite of my incomplete tour I'm quite satisfied, because the site looks like a real all-rounder, which can offer birding opportunites for several hours all around the year. I'm curious what the birding will be like at the other Bischofsweiher.