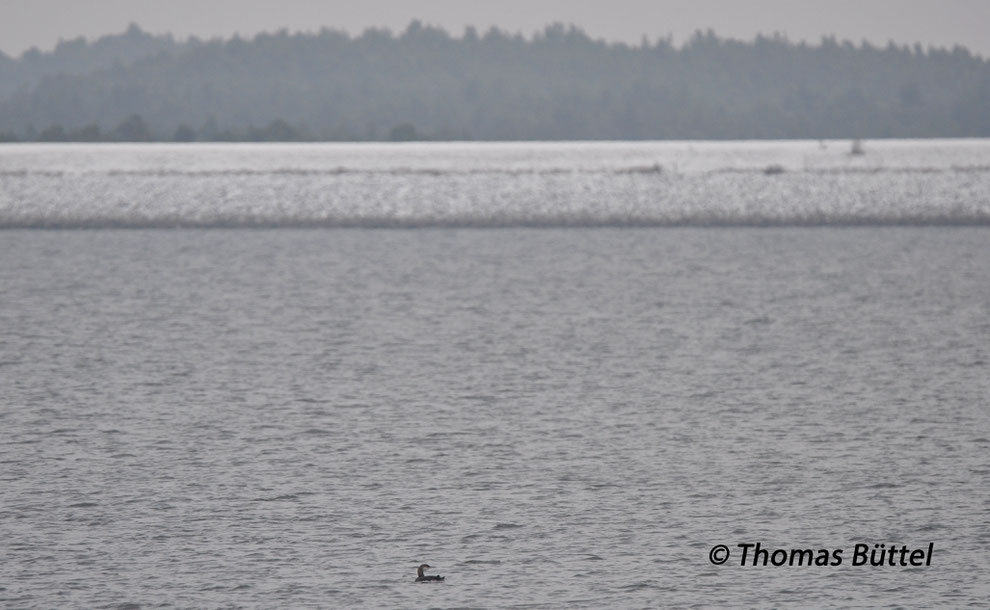 I've planned a trip to the Brombachsee for a long time and fortunately today was the perfect opportunity. Franconia's largest lake may be famous for being a popular swimming and sailing lake in the summer, however in the quietness of winter it is an excellent site for water birds, if not the best in Franconia. The weather was perhaps not perfect as the skies were overcast but at least it wasn't snowing and the streets were all drivable.
Before you scroll down, please have a look on this wagtail at first, which I could observe at the southern shore of the lake near the village Ramsberg. Its overall dusky appereance, the strong coloured flanks, blackish rump and contrasty face all reminded me immediately of the Pied Wagtails (Motacilla [alba] yarellii) I've seen in the UK last August. However, considering that this (sub)species is very rare so far in the inland and the great ID problems with winter birds, I'm not sure if this individual can be safely identified. Nevertheless, I'd be very interested in other opinions.
As expectable the main lake was completely ice-free and the birds therefore spread over the whole area. Since I visited just a couple of sites on the southern and northern shore, I could only get an overview over the situation. Nonetheless, I still combined with some good birds, namely an irritatingly close Arctic Diver, a Smew, two Red-breasted Mergansers, a small flock of Great White-fronted Geese and of course lots of common waterfowl.


Despite of the suboptimal light conditions and the most birds being far away I was surprised that there were so many good opportunities for photography as well. Below you see some of my best shots of the day.