It has been quiet on this blog for quite a while, mostly because I've spent three weeks in Israel, which is by the way not only a beautiful country but also terrific for birdwatching. Soon I'm going to report more on my experiences there as well, but for now I'll focus on my current sightings here at home.
Today I started with the "Schlagenweg" near Zell a. Ebersberg hoping to find some classical woodland species. The site is especially interesting because three species of flycatchers breed in the ancient forest, namely Pied, Collared and Red-breasted Flycatcher. The latter is by far the rarest of the three and since the first individuals are just arriving from their winter quarters, I couldn't seriously expect to find one. The other two have however been reported since at least four weeks on ornitho.de, though mainly from other sites. Therefore I was a bit shocked that on the first kilometer I didn't find a single flycatcher but just the usual Wood Warblers and Chaffinches. It took very long until I heard the first individual faintly in the distance. Fortunately, it changed its position and came very close to the path so that I was able to take a record shot of it. 
Despite of this nice sighting it is nonetheless strange that I haven't found even a single Pied Flycatcher. On the way back I came at least across one further Collared Flycatcher but this species is as well underrepresented in comparison to last year. I wonder what the reason for this is. I can only hope that it was because of the admittedly late daytime.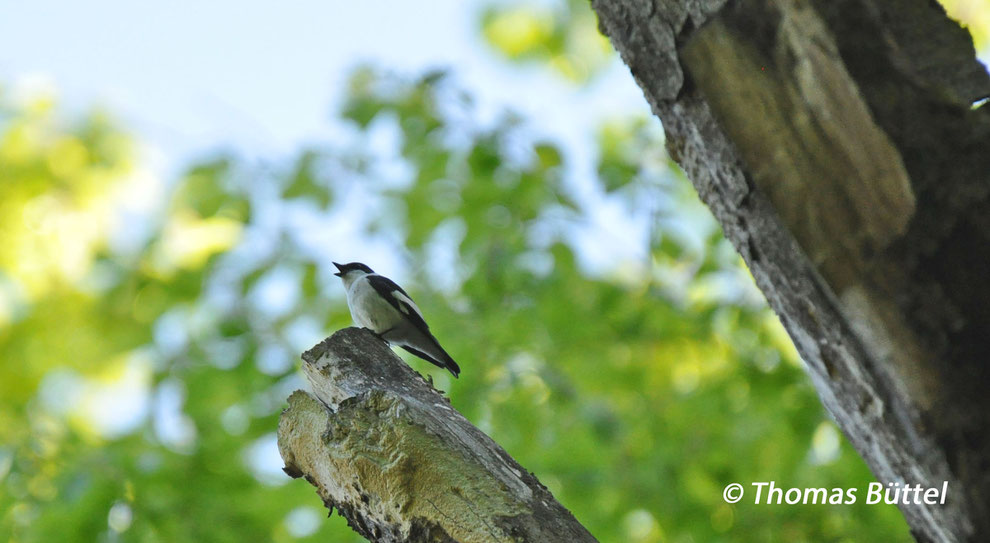 Afterwards I went to the Großer Wörth, which is - as said some times before - one of my favourite sites. Before walking the classical circular route I made a detour to the neighbouring airfield in order to connect with the Corn Buntings there. Fortunately, it took no longer than five minutes until I heard their characteristic jingling song.
A quick visit of the observation tower produced the usual Reed Buntings, Eurasian Reed Warblers and Great Reed Warblers, but no Little Bittern. I guess that I would have needed a bit more patience for observing one of those, but I simply didn't want to stay longer there than necessary. Along the circular path I finally heard the songs of several common species like Nightingale, Garden Warbler or Cuckoo that I've so far missed in the year, since the most hadn't yet arrived, when I had left Germany in April. So I could add some easy year ticks within a couple of minutes. 
On the sandbanks of the opposite shore there was surpringly a small flock of large gulls, which normally are rather found in the winter. Yellow-legged Gulls are indeed rare breeders in Franconia, but the also present Caspian Gulls were a really unusual sight. Perhaps this comes because of the continuing expansion of this species over the last years. Alongside these probable migrants I found furthermore some Lapwings and a pair of Little-Ringed Plovers.
So in the end I've seen 62 species today, of which 8 have been new for this year.