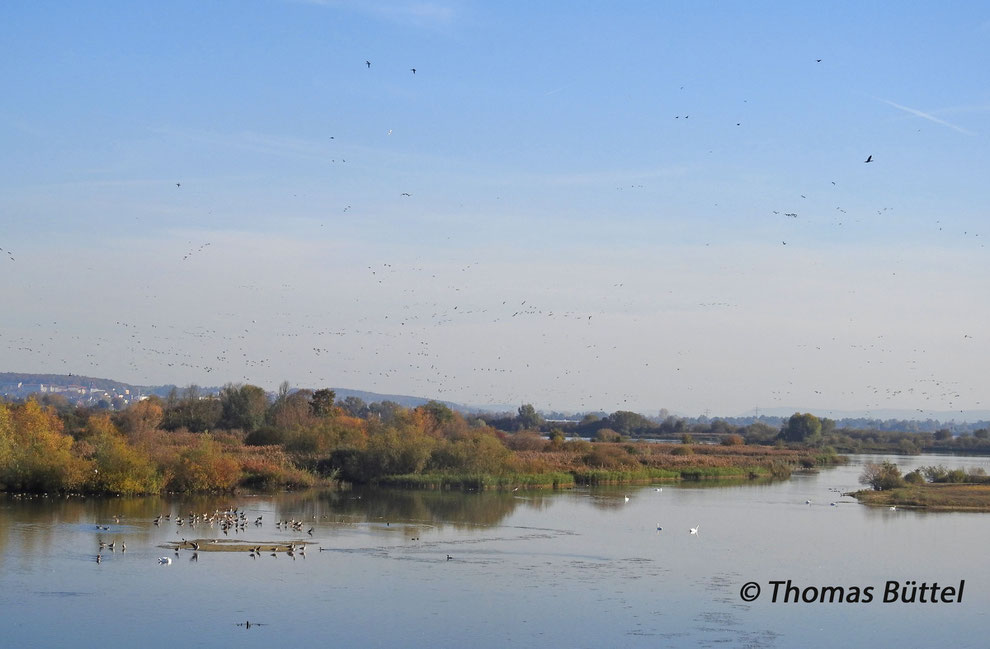 A fantastic autumn day and the chance to visit one of the best birdwatching sites of Bavaria - what could a birder wish more. Yesterday I enjoyed a brilliant afternoon on the observation tower of the "Altmühlsee", which is situated in the southern part of Middle Franconia. The most obvious difference of this site to all my regular birding destinations is the large number of birds that you can see there. When I normally get not more than 300 Greylags on the local lakes I get here a lot more than 1000 (only talking of the birds which can be seen from the tower). Over the last decades, since the lake was dammed in the 80's, the Altmühlsee has become an important stepping stone for bird migration.
Unfortunately, just as I arrived at the tower, a helicopter circled one or two times over the area and flushed most of the birds. Still I caught up with some interesting birds including probably the last waders of the season, namely two Dunlin, nine Ruff, ca. 20 Eurasian Curlew, five Snipes and a couple of Lapwings. Far more impressing were the numbers of the already mentioned Greylags and of the various duck species like Northern Shoveler, Teal, Gadwall and my first Wigeon of the season. Apart from that there were just the usual wetland species.
As I will spend from now on a notable time of the year in this region, I'll certainly visit the Altmühlsee and the other birding hotspots of southern Franconia (e.g. Brombachsee) more often than in the last years. So stay tuned.