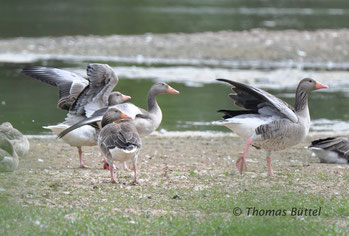 In July all geese in the valley of the river Main are counted, at least in the section from the district of Bamberg to the district of Haßberge. Altogether today almost 600 geese could be seen, the most being Canada Geese and Greylag Geese, but also some Egyptian Geese.

Further highlights were the colony of Sand Martins at Oberhaid and the cooperative Little Bittern at the "Großer Wörth". Quite interesting was also the high number of waders at the sandbanks of the "Großer Wörth", at least 14 Lapwings, four Little Ringed Plover and a Green Sandpiper.

Altogether a good result for a day in July.