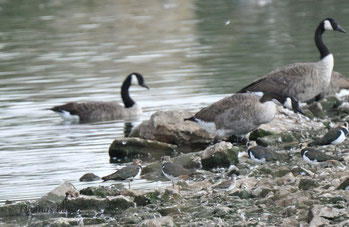 Today I spent three hours birdwatching at Haßfurt in the "Mainaue Augsfeld". First stop was the "Großer Wörth", which is quite often and so this morning too the most interesting location there.
From the observation tower I scanned the reed belts of the proximate "Sichelsee", but only a single Kingfisher could be seen. The bigger lake looked a bit more promising, since huge sandbanks were visible at the opposite shore because of the long-lasting heatwave of the last weeks.
And indeed, the sandbanks offered several waders and other waterfowl. Altogether there had been two Snipes, two Wood Sandpipers, four Common Sandpipers, 28 Lapwings and even a juvenile Little Stint, which is only seldom seen so far in the inland. Apart from that dozens of Cormorants, Grey Herons and Canada Geese were feeding in the shallow water zones. At leat till they were disturbed by a male Marsh Harrier, which patrolling over the water.
This had been a good start into the day, but it came even better, when a juvenile Green Woodpecker was hopping along the small path just a few meters in front of me for at least ten minutes. Afterwards I spent some time searching for interesting raptors on the nearby water protection area, the result were two further Marsh Harriers and Common Buzzards as well as four Kestrels.
Finally I headed to the second best location of the area, the "Hochreinsee". As I arrived there, I was a bit disappointed at first, that not even a single wader could be seen, though several were seen there a few days ago. Instead two Garganeys and many geese, interestingly also eight Ruddy Shelducks, were dabbling near the "cormorant-isle". Having been focused on the geese at that moment I detected the flying by Night Heron too late and so I was not able to photograph it. While I was waiting for the heron to come out of the reed belt again, the fourth Marsh Harrier of the day came in sight circling quite low over the reed. Just as I was about to leave the viewpoint again, I finally heard also a Little Bittern calling out of the reed.