Yes, so you could call 2015, at least from my point of view. It all started with the probable Pine Bunting on the 6th January, definitely one most exciting representatives of these. Unfortunately my pictures weren´t good enough to exclude a pale Yellowhammer, but thanks to the people who said me their opinion about the bird.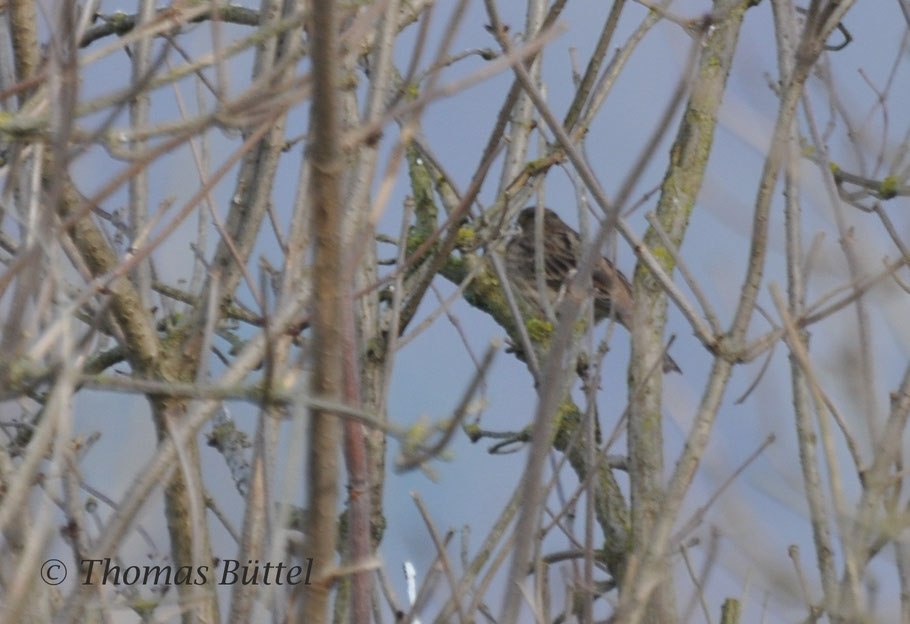 Afterwards the year went on with increasing speed, especially the waterfowl was well represented. Finally after almost ten years a male Scaup could be seen in the district of Bamberg. In April and May eventually the most breeders had arrived and on the shores of almost every quarry pond the songs of Bluethroats could be enjoyed. Nevertheless also Common Redstart, Nightingale and Kingfisher seemed to have a good year, since they were almost omnipresent along the Main. The only negative news were that during the Ortolan Bunting Census not even a single singing male of this sought-after species was registered in the district. However I had still success with this bunting near Grettstadt.
The undoubtedly highlight of this season was the Mixed Singer near Gaustadt, which was reliably seen for almost two months. To my knowledge it is the only known mixed singer of Willow Warbler and Siberian Chiffchaff. We´ll see if the German Rarity Committee (DAK) accepts it.
Unlike the months before the summer couldn´t keep the level, though the Little Bittern at the Großer Wörth was always a joy to observe. The autumn also remained average, but unfortunately waders could only be seen at the Großer Wörth. A bit later in October I discovered my third mentionable bunting at the same lake as the Pine Bunting. And once again the pictures weren´t good enough for a safe identification. Even though it was never seen again, the little bird attracted some attention and several astonishing species were taken into consideration including Pallas's and Japanese Reed Bunting.
A bit later I found my first ever Red-throated Diver and almost a month later I observed my first ever Great Northern Diver. Furthermore amazing were the huge numbers of Northern Bullfinches. At the moment almost everywhere the weird "trumpet-call" can be encountered and allows to test the known phenotypical features.
So the first full year of this website ends. Of course I´m going to continue like that in the new year and I plan to go birding on sites, that deserve more attraction or have never been visited before.